Labradoodles are bred to be a Human companion and helper, most other breeds were created to be either a hunter, Guard or herder. The Labradoodle is a people dog they are bred to poss a friendly social natured, allergy friendly coat ,non shedding, non smelling and highly intelligent. They can be trained to assist humans in everyday life.

It is marvelous how repetitively Labradoodle owners boast that their dogs exhibit the most amazing powers of perception, appearing to "know" what is wanted. They are easy to train and are a joy to have in the family household. Time and again, proud owners declare that their Labradoodle advance in classes at dog school with no preparation. It would be of no surprise to hear one day that a Labradoodles are excelling as a gun/field dog. Labradoodles are soft mouthed retrievers that love water sports!

.


These babies were six weeks old on 9/15/05. There is only one black male, one chocolate female and one apricot male left. Both parents are AKC registered and with championship bloodlines.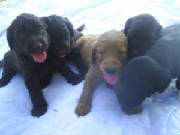 We are devoted to raising beautiful, healthy, affectionate puppies and making them available to responsible dog lovers.
Shasta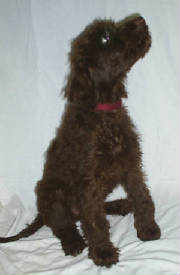 I am one of the babies in the above picture. I am an very well mattered puppy and very loving